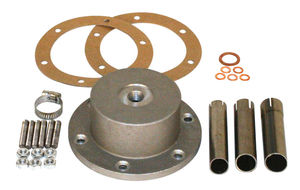 oil sump mini sump kit for type 1 blocks - Empi
Part number:
16-9520
Your cost:
$26.00

Description:
1 available, on special. Normally $35.35

Help prevent harmful oil starvation by installing this 'mini' sump to increase oil capacity.
Kit comes with 3 different size pick-up tubes, studs, nuts, washers and gaskets.
Your existing drain plug can be re-used or use part# 8856 magnetic drain plug for a tad bit extra protection.
This won't hold a substantial amount of oil, but it will hold enough to keep the oil pick-up submerged.
Use this sump if you are also going to use exhaust 3604.
Availability:
In Stock
We accept the following forms of payment: