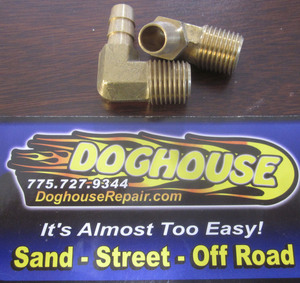 fuel outlet brass elbow 1/4npt x 5/16" for Aluminum & Stainless gas tanks
Part number:
FIT-32040
Your cost:
Description:
1/4" npt x 5/16" barb fuel outlet, brass, 90 degree outlet for aluminum gas tanks. DON'T OVER TIGHTEN or you may damage the tank.
This takes less room than the straight outlet we sell.

Tap your aluminum or stainless steel gas tank near the bottom of the tank and near the top of the tank and join the 2 barbs with clear fuel line, now you have a visible gas gauge.
Availability:
In Stock
We accept the following forms of payment: