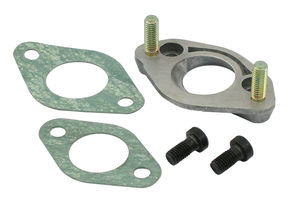 adapter plate 30 pict carb onto a 34 1300/1600 manifold
Part number:
98-1293-B
Your cost:
Description:
adapter plate 30 pict carb onto a 34 pict 1300/1600 manifold.
Here's the scenario: your 34 pict carb bit the dust and you have a 30 pict to put on in it's place.
This adapter kit has what you need to fasten the small 30 pict carb to the big 34mm manifold.
Or, you could just buy the right carb so you don't run your engine too hot by running it lean by having too small a carb on it.
Brosol kit, comes with what is shown here: adapter, studs, Allen head bolts, gaskets & instructions.
Made in China.
Also known as part# 31010 & 113 129 034KIT.
Availability:
Ships within 1-3 business days
We accept the following forms of payment: