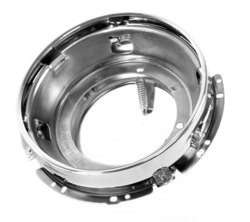 head light housing assembly to hold sealed beam bug, ghia, bus & type 3
Part number:
141 941 041
Your cost:
$33.35

Description:
1 available
This is for use in a steel fender.
This is an oem head light retainer, made by Hella.
Fits bugs & super beetles 67-79, ghia 64-74, Type 2 68-79 & type 3 64-73.
This is what your sealed beam sits in.
This unit is compatible with the H4 headlight.
NOTE: there is only 1 spring on these, even though there are clearly holes for 2. That's the way all the new ones come, it is NOT a mistake.
Availability:
In Stock
We accept the following forms of payment: