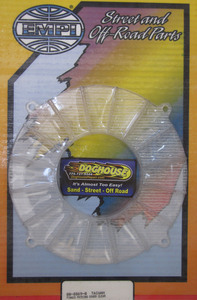 alternator or generator backing plate cover PLASTIC CLEAR Empi
Part number:
8869
Your cost:
$10.25

Description:
1 available, on special. Normally $12.15

generator or alternator backing plate cover, transparent CLEAR PLASTIC - looks great over a chrome backing plate 9071.
Empi.

Consider using #13 6x23 stud in your shroud and #34 6x1.0 nylock nut & #40 sae flat washer to hold it all on.
Or, maybe your hardware store carries a long 6x1.0 pitch screw.
Availability:
In Stock
We accept the following forms of payment: