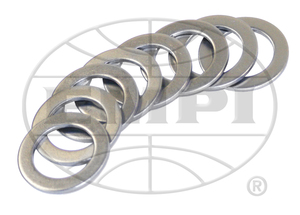 rocker shaft shim set .060" thick Empi
Part number:
4057
Your cost:
Description:
These shims, when used with the other thicknesses we also sell, allow you to replace those oem wavy washers on your rocker shaft (fits 17-2954, 21-2308 & 21-2309).
Known for breaking in half, those oem wavy washers can cause problems when they fall into the crankcase.
These fit both the standard & bolt together rocker shafts.
This is just a set of 8 shims in .060" thick.
These have an ID of .710" and an OD of 1.065"
Empi packaged.
Availability:
Ships within 1-3 business days
We accept the following forms of payment: