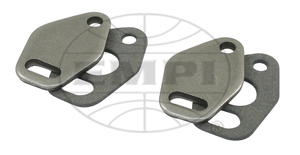 heat riser block off pair only - plain - Empi
Part number:
3447
Your cost:
Description:
Plain exhaust heat riser block offs, pair only, with gaskets.
You need these if the heat risers on your exhaust are open and let exhaust come out AND you don't have heat riser pipes coming off of your intake manifold.
You will ALSO need the bolts nuts & washers to do the install of the block offs.
Empi packaged.
Availability:
Ships within 1-3 business days
We accept the following forms of payment: