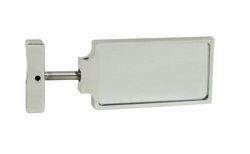 mirror outside billet left or right side Rectangular radius mount Empi EACH
Part number:
16-8573
Your cost:
$29.95

Description:
1 on special.

SOLD EACH
This billet aluminum rectangular mirror can be used as either a left or right side unit.
2" x 3"
Fastens onto 1 1/2" round tubing common on sandrails.
End pin RADIUS/SCREW MOUNT on mirror.
Empi packaged.
Common on sandrails or hotrods - you could make them work on a sedan with some creativity.
Availability:
In Stock
We accept the following forms of payment: