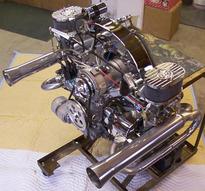 carb kit dual 40 IDF deluxe for type 1 engines Weber hex Empi billet air
Part number:
43-9317
Your cost:
Description:
Although shown here on an engine we built are dual 44's, the 40's are identical in appearance.

Features include: Aluminum alloy hex bar.
Steel ball ends that ride in plastic bushings under spring pressure.
Sealed aircraft heim joint rod ends.
Ball burnished/polished (shiny on the outside) offset aluminum intake manifolds which won't require any welding for port work.
Thick high strength steel linkage mounts.
Solid aluminum base for the air cleaner and highly polished Billet aluminum air cleaner tops.
Standard size 4 1/2 x 7 x 3 1/2 washable gauze filter elements.
Coil relocation mount.
Large brass fuel T, fuel filter, fuel line, nuts, washers, studs, gaskets and detailed instructions.
Everything you need but a friend to hand you a cold drink while you put it on.
Availability:
Ships within 1-3 business days
We accept the following forms of payment: