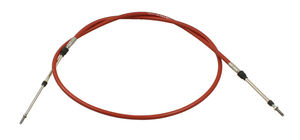 accelerator cable morse 10' Morse throttle cable
Part number:
16-2080
Your cost:
$47.00

Description:
1 on special.

We sell a lot of this type cable to sandrails. They are sand sealed on both ends and sheathed in a heavy duty red cover for durability.

Everybody has 'em, so now it's your turn. Measure carefully and take into consideration wide radius's because it doesn't like bends. This one is 10' long end to end.
Availability:
In Stock
We accept the following forms of payment: