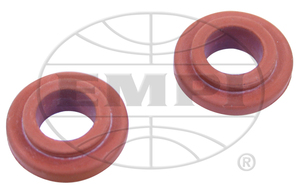 oil cooler tower seal old style block w/ new cooler - early/ late kit Empi
Part number:
9255
Your cost:
Description:
4 o-rings kit, for oil tower, at the block.
Fits old style block w/ new doghouse cooler.
2 Pair of seals in this kit - 8mm / 10mm. One side is 8mm the other is 10mm.
You will only use 2 seals per install.

Comes with little brass washer/spacers.
Also known as part# 111 198 029 or 46462F.
Availability:
In Stock
We accept the following forms of payment: