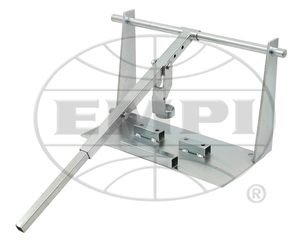 head assembly VW valve spring compressor tool bench mount only - Empi
Part number:
5742
Your cost:
Description:
For use with type 1-2-3-4 cylinder heads (all of the air cooled).
Empi head assembly tool bench mount.
I have 1 of these and I won't build a head without it.
I cheat though, by using a heavy bar in the square handle's opening to act as my body weight. It'll hold the spring down for me so I can use both hands to install the keepers and retainers.
Ship weight is 10 to 12 pounds

For an IN THE CAR spring or retainer removal tool, there's part #5747.

Many tools can be used and they don't show any signs. For that reason: Tools sold on our site are not returnable for any reason.
Availability:
Ships within 1-3 business days
We accept the following forms of payment: