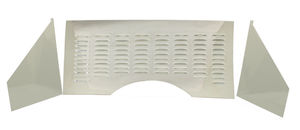 firewall kit Bug stainless louvered steel Empi
Part number:
62-3020
Your cost:
Description:
firewall stainless 3 piece kit.
One piece, the firewall, is louvered steel - like chrome.
The 2 side pieces are smooth stainless.
Fits all bugs, not convertible.
Pull the engine to install this.
Comes in a big box: 39 x 20 x 3.
Availability:
Ships within 1-3 business days
We accept the following forms of payment: