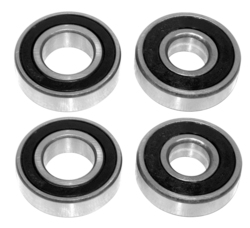 wheel bearing front inner sand sealed for alum spindle mount wheels
Part number:
10-1001IN
Your cost:
Description:
wheel bearing sand sealed INNER ONLY for aluminum spindle mount wheels.
This means this bearing will fit inside* of a link pin spindle hub, on the inner side of the rim, when used on a link pin spindle.
O.D. of bearing is 52mm (just over 2")
I.D of bearing is 1"
Sold each.

*This bearing ALSO fits BALL JOINT spindles as an OUTER bearing, when used with the "L" bushing (part# 16-9928) and aluminum or steel spoked rim combinations.
We warm the rim with a hair dryer and tap the pre-chilled bearing in with a mallet. The bearing can go in, in either direction, there is no right or wrong way.
Availability:
Ships within 1-3 business days
We accept the following forms of payment: