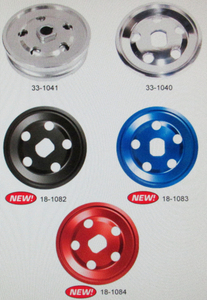 alternator or generator pulley outer HALF in Red ALUMINUM w/ holes Empi
Part number:
18-1084
Your cost:
Description:
Unlike just a good looking pulley cover, this is actually the outer half of a top pulley.
This outer half of the pulley can replace your stock outer half of the pulley with a real nice red billet aluminum half.
You can put this on the Empi chrome pulley back half or the Empi zinc pulley back half.
IT DOES NOT fit the early style pulleys that have locate tabs.
This outer half is made from 6061 T-6 billet aluminum and has 5 round holes in it for a bold new look.
The holes also function to get rid of dirt and debris in the pulley area.
It's lighter too!
Empi packaged.

In a recent install, we used a fat 11.3 x 912 belt. These belts require several shims between the pulley halves to get proper play. Those shims and this pulley cover collectively take away the useable thread space that the chrome pulley nut & spacer we used (Empi) NEEDS to spin onto the alternators threaded end.
To get several turns of the nut on the alternator, we put the flat end of the pulley nut SPACER against our cut off saws blade and ground down the FACE thickness by 50% (from 5mm to 2.5mm).
Availability:
Ships within 1-3 business days
We accept the following forms of payment: