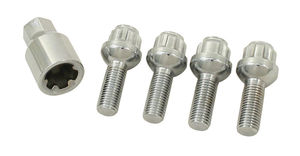 wheel lock bolt set 5 lug 12 x 1.5 set of 4 ball chrome Empi
Part number:
70-2700
Your cost:
$16.00

Description:
3 sets available, on special. Normally $23.15

Buy this set if all you have is the holes in your drum where the wheel bolt goes.
This set has long wheel bolts that have lock pattern heads on them.
Lock tool included.
Use 1 of these new bolts per wheel.
Wheel lock for 5 lug pattern rims, 12 x 1.5 pitch, set of 4 locks, chrome for steel wheels.
Ball seat (NOT 60 degree).
Threaded length is 1.125"
Empi packaged, set of 4.
NOTE: All lug bolt installs need to be checked to be certain that they are not interfering with internal brake parts. Grinding for clearance may be necessary and is the responsibility of the installer.
Availability:
In Stock
We accept the following forms of payment: