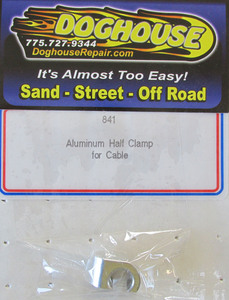 morse cable half clamp - aluminum CNC
Part number:
841
Your cost:
$10.00

Description:
1 on special.

This clamp requires you to drill a hole to fasten it.
The opening is just exactly the right size for the end of the cable to go through and prevent cable travel.
A Note about this:
You must remove the 2 rubber sealing boots and slide this on. If it doesn't slide over the flared end of your Morse cable, you'll need to warm it with a heat gun or hair dryer. It doesn't take much before it gets real hot. Once it's expanded, you can then tap it into place. The cables bulge will prevent it from going too far. Now, you can re-install the 2 sealing boots.
Availability:
In Stock
We accept the following forms of payment: