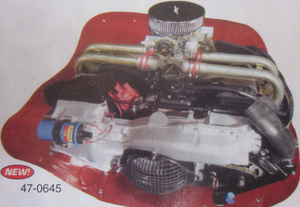 carb kit single 38 EGAS for type 2 & 4 engines Empi
Part number:
47-0645
Your cost:
$350.00

Description:
This special priced item (ONE ONLY ON SPECIAL) NOT eligible for free shipping promotion.

Shown installed

A synchronous 38mm 2-Barrel carburetor.
Features a true Pre-Heat System and an Electric choke for easy cold weather starting.
Excellent power, performance and drivability.
Kit comes with:
A vacuum port if you want to run a vac adv dist.
A new Empi EPC-38 carb, manifold tubes and carb base, manifold boots & clamps, gauze washable air filter in a chrome housing, hardware, linkage kit, instructions & gaskets.

factory jetting:
45 idle
145 main
170 air
F50 Emulsion tube
65 pump

Any carburetor, new or used, alone or in kit form, installed or not, sold on this site is sold without warranty, and is not returnable

This special priced item NOT eligible for free shipping promotion. We'll charge your card any additional it costs to ship it to you once we have it packaged up. You agree to this by purchasing this item.
Availability:
In Stock
We accept the following forms of payment: