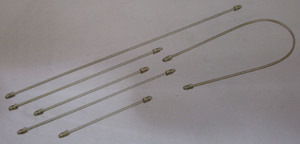 brake line metal stock all type 1- 20"
Part number:
98-9616-B
Your cost:
Description:
Many brake lines shown here, but only the 20" one is sold here.

This 20" 10 x 1.0 bubble flare metal Brake Line can be used for replacement or repair
Cad Plated for long life and stock appearance.
Sold each here.
This brake line may show up with a bend in it to accommodate the shipping package it's put into.
Availability:
Ships within 1-3 business days
We accept the following forms of payment: