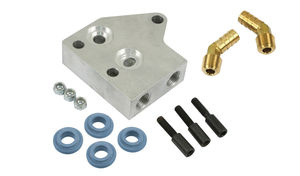 oil cooler adapter for stock & remote cooler & filter use Empi
Part number:
17-2873
Your cost:
Description:
This adapter is listed by Empi as being only for use with an early oil cooling tower that is commonly black in color and made of steel that bolts directly to the engine block.
In other words, NOT for use with a Doghouse style oil cooler.
This mechanic however, did make it work with a Doghouse oil cooler setup, but it was very time intensive and I'd never do it again!
You can add extra oil cooling and filtration with this adapter in a bolt on kit.
Empi packaged with seals & barbs & hardware.
Also called a dual bypass adapter.
Availability:
Ships within 1-3 business days
We accept the following forms of payment: