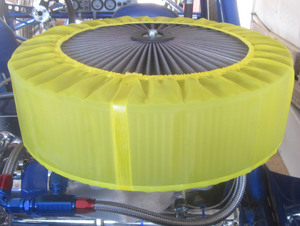 outerwear YELLOW for 14" round x 6" tall
Part number:
10-1026-04
Your cost:
$13.60

Description:
We have 1 on special. We won't be ordering more.

Shown installed, for this ad, on a 4" tall x 14" round filter.

If you are running an Extreme filter like the one shown, use an Outerwear WITH a top.
The Outerwear shown is designed to be used with a solid top (chrome for example) air filter.

Outerwear sold in this ad is without a top, YELLOW, designed for 14" round x 6" tall filters, but also fits 4" tall (shown).
Sold each.
Availability:
In Stock
We accept the following forms of payment: