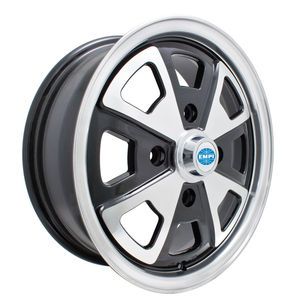 rim close 4 pattern 4 spoke Empi 914 style alloy 15 x 5.5 gloss black & polished
Part number:
9681
Your cost:
Description:
All New
Made by Empi
Just like Empi's wheels made in the 60's.
Empi has created new tooling and have machined & finished these wheels to the highest quality.
The look of the 60's meets New Age Technology.
This 914 Alloy wheel has a gloss black finish with a polished lip & wide polished spoke faces.
Each 4 on 130 VW pattern wheel comes with: chrome Empi logo Center Cap & Chrome valve stem.
This wheel weighs 15#s & has 60 degree taper lug nut seats
Uses part# 9534 lugs
35mm offset
Doghouse makes no representation as to what vehicle this rim will fit on or what equipment this rim will work with on any vehicle. We advertise what the rim manufacturer tells us. For more information about this rim, contact Empi at 714-446-9606
Availability:
Ships within 1-3 business days
Before purchasing this item, you must e-mail us your shipping information (address, city, state, and zip code) to receive a freight quote.
We accept the following forms of payment: