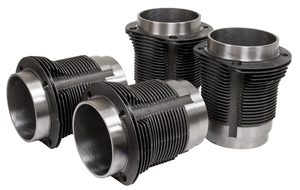 cylinders only set 94mm LONG China Bugpack Empi
Part number:
B4-5751-2
Your cost:
$120.00

Description:
1 set on special. Normal price range is $179-$227

These extra long cylinders (.800 longer than stock) are finned for superior cooling.

Designed for longer stroke cranks and /or longer length connecting rods.
Designed to be machined to your desired length.
Eliminates the need to shim your cylinders to set deck height.
Leaves as much sleeve in the block as you want to guide the piston.

These are just the cylinders.

Commonly used with:
big stroke cranks
big stroke cranks and long rods
short stroke cranks and long rods

cylinder set fits 94mm vw pistons.
Bugpack
Previously known as part 4575-12
Sold by Empi.
Availability:
In Stock
We accept the following forms of payment: