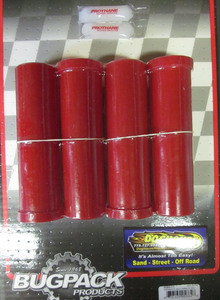 beam bushing kit inner & outer f/ steel beam w/ 46mm tubes 4 pc USA Bugpack red Empi
Part number:
B6-5841-1
Your cost:
Description:
Bugpack manufactures the most extensive line of front end bushings in the business.
Made in the USA
Bugpack previous #6584-11
These may be shipped out of the package they come in.

These bushings take the "movement" out of a new or old front end while providing the superior suspension qualities that only urethane can provide.
Since urethane is impervious to the elements and wears like "iron" - you'll enjoy many years of performance.
In/Out bushings are long one piece units designed to replace BOTH inner and outer with one bushing at the same time giving greater surface to the trailing arm (including custom aluminum and steel beams) while others replace the outer only.
Availability:
Ships within 1-3 business days
We accept the following forms of payment: