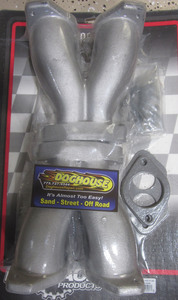 manifold set for dual carbs hpmx, idf & drla Bugpack TALL USA
Part number:
1038
Your cost:
$100.00

Description:
1 set on special.

These TALL manifolds complement the many outstanding hpmx, idf or drla carburetors available for your VW.
These manifolds have a NOS boss on them.
Each cast manifold is designed to utilize the specific characteristics of the carb for which it is made.
Extra effort has been spent to be sure that fuel flow is at the optimum.
All surfaces have been carefully machined for complete sealing.
All necessary gaskets and hardware included.
The base flange is so thick, you'll NEED 50mm long intake studs to attach them to your heads
Bugpack packaged and made in USA.

Note: You may experience clearance problems on some fan shrouds when using dual carbs.
Availability:
In Stock
We accept the following forms of payment: