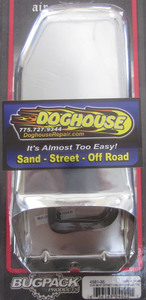 tin f/ doghouse 1 piece - for oil cooler air flow exhaust lower chrome Bugpack
Part number:
4581-35
Your cost:
$12.95

Description:
1 on special.

Correct fitting tin is necessary to maintain proper engine operating temperatures.
This is only the lower piece (shown on the right) that lets the hot air pass through the firewall tin.
Chrome.
Bugpack packaged.
Availability:
In Stock
We accept the following forms of payment: