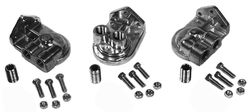 oil filter adapter kit ports face left cast Bugpack
Part number:
3053
Your cost:
Description:
Since full-flow is the most desirable method of oil filtration for the VW engine, this adapter can be used with external oil cooler installations or special pump cover.
Bugpack kit includes adapter and hardware.
If you mount this horizontally as most would, the oil ports will face left.
Availability:
Ships within 1-2 weeks
We accept the following forms of payment: