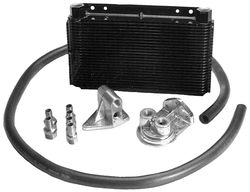 oil cooler flat 48 plate kit complete - Bugpack
Part number:
3081-11
Your cost:
Description:
State of the art in cooling technology.
This cooler's patented stacked-plate design is more effective because oil passes through embossed plates, and is spread out evenly within the plates, which is fully exposed to air.
The embossed plates increase the area of cooling surface as well as cross currents of air flow for maximum cooling.
Check out these outstanding features:
Increases the cooling efficiency by 30% over conventional designs.
Mesa-Cool's multiple-flow path improves oil flow at less pressure loss, so oil is cooled faster, without losing vital high pressure.
Mesa-Cool's fluxless, oven brazed construction is vibration-proof and aerospace quality aluminum alloy resists rust and corrosion.
Thin, compact design is only 1 1/2" thick, to handle those hard-to-fit applications.
Tough enough to remain unharmed under normal operating conditions, this cooler cannot be damaged like conventional coolers.
Mesa-Cool Element is 48 Plate (5 3/4" x 11"). Kit comes with a bypass adapter, oil filter adapter, barbs & oil hose.
Availability:
Ships within 1-2 weeks
We accept the following forms of payment: