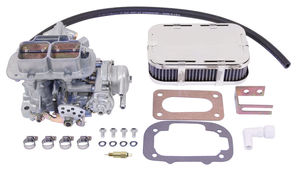 carb kit single 32/36 EPC for 6/72-76 BMW 2002 1970cc Empi
Part number:
47-1204
Your cost:
Description:
The EPC 32/36 is a progressive carburetor. The progressive features of "primary" & "secondary" allow for a very controlled driving experience.
This only fits the above vehicle/ engine.
Comes with a water choke & electric idle cut-off solenoid.
This is a direct mount carb, no adapter is needed.
Comes with an air filter & throttle linkage.
Comes complete with all necessary installation hardware & instructions.
Availability:
Ships within 1-3 business days
We accept the following forms of payment: