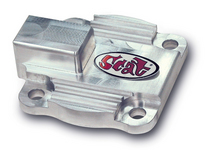 oil pump cover full flow w/o plug BILLET Aluminum Scat
Part number:
50059
Your cost:
$28.95

Description:
1 on special.

6061-T6 Aluminum billet oil pump cover with 8mm bolt holes.
This cover has a 3/8" full flow outlet without a barb, so you'll need to buy the one that fits your hose.
We recommend the part# 9212 which is a 3/8" fitting with a 1/2" barb.
This will fit type 1-2-3-4 oil pumps with 8mm studs.
No plug.
Scat packaged.
Availability:
In Stock
We accept the following forms of payment: