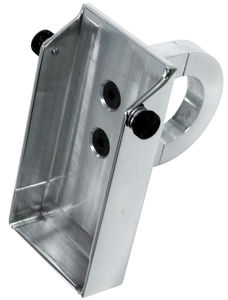 GPS mount billet fully polished Empi
Part number:
16-7011
Your cost:
$29.90

Description:
1 on special.

GPS is here and can be a real lifesaver when exploring unknown territory.
This polished aluminum GPS mount securely holds your hand held unit in clear view for quick reference.
Features adjustable thumb screws to fit most hand held GPS units.
Empi packaged.
Measures 2 1/4" wide and 3/4" deep with an open top for the height.
Clamps around 1 1/2" tubing from the back.
Availability:
In Stock
We accept the following forms of payment: