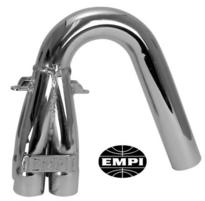 bend or downswept collector 1 5/8" pipe chrome offroad Empi
Part number:
3452
Your cost:
$41.50

Description:
1 available, on special. Normally $65

This collector is just like the black u bend (part# 3451) we sell, only it is show quality chromed.
Made to fit all exhaust systems that have 4 pipes (1 5/8") pointing straight up to go into the collector.
Empi packaged.

Exhaust systems or their components will not be accepted for return or credit if there is evidence of having been installed or used.
Availability:
In Stock
We accept the following forms of payment: