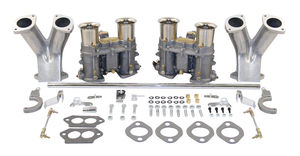 carb kit dual 48 IDA for type 1 engines w/ std/ Race manifolds Weber chrome Empi
Part number:
43-7329
Your cost:
Description:
These are the latest production version model # 48IDA 4R.
They are the 2-hole bypass style and come right out of the box with 37mm Venturi's and jet screens already installed.

This kit is not supplied with air cleaners.
Kit is supplied with both the aluminum crossbar mounts at the velocity stacks and steel mounts which allow for air cleaner use.
See part# 43-6012 for air filters. Some modification may be necessary for YOUR application.

This Empi kit comes with race competition (chrome round bar) cross-bar linkage.
Race adaptable manifolds are for all-out racing head use with more material provided at upper intake port area, so the manifold can be match ported to even the extensively modified head.
These manifolds come with an oem style port design at the base of the manifold so they can be precisely match ported to your particular port shape.
Availability:
Ships within 1-3 business days
We accept the following forms of payment: