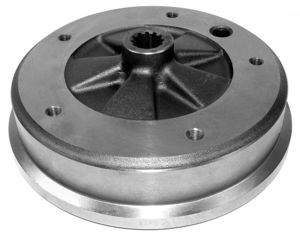 drum rear 5 hole fastback / squareback 63-65 Brazilian Empi
Part number:
98-5007-B
Your cost:
$90.15

Description:
1 on special.

drum (12 spline), rear, type 3 63-65 fastback / squareback with wide 5 hole pattern.
Built for racing or street.
Also known as part# 311 501 615E.
Frum (spelled correctly) brand Brazilian, great. We don't know what brand replacement drums will be.
Sold each.
Measures 2 1/8" deep (shoe surface)

After the 1 Brazilian drum we have in stock sells, replacement drums will be from China.
Although made in China, these are made exclusively for Empi from exact copies of oem drums and then meticulously inspected for quality before production.
Availability:
In Stock
We accept the following forms of payment: