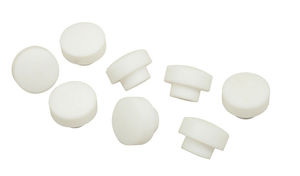 piston pin button set teflon for 85.5mm AA pistons Empi
Part number:
4076
Your cost:
Description:
teflon button set for AA brand 85.5mm pistons.
These fit 22mm wrist pin size bores.
The nub that fits inside the wrist pin is only 5mm long.
These can't fail or pop out like standard wrist pin clips.
Empi packaged.
Availability:
Ships within 4-7 business days
We accept the following forms of payment: