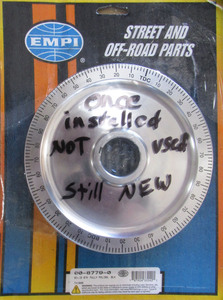 stock size pulley w/ black numbers NO holes Empi once installed
Part number:
8779
Your cost:
$27.50

Description:
This pulley was installed and then taken back off for a different choice of pulley.

6 3/4" aluminum pulley crank stock size w/ black numbers NO holes.
Empi polished billet style.

Consider that you might need washer 8688-6 to move the pulley away from the tin so it doesn't rub.
We strongly recommend using the long pulley bolt part# 9118 with this pulley.
Availability:
In Stock
We accept the following forms of payment: