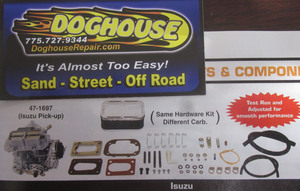 carb kit for Isuzu 86 on pick-up 2300cc EPC 32/36E
Part number:
47-1697
Your cost:
Description:
The EPC 32/36 is a progressive carburetor that features primary and secondary functions for a very controlled driving experience.
This carb has an electric choke for ease of operation.
The kit comes with everything shown.
Availability:
Ships within 1-3 business days
We accept the following forms of payment: