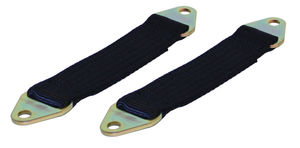 limit strap pair 20" in black - Empi double
Part number:
17-2894
Your cost:
Description:
Double* thickness strap 20" anti-tuck or limit strap or limiter strap.
Strap measures between 1 15/16" & 2" wide
You get 2 straps for this price.
They will always be BLACK in color with gold zinc ends.
Made in Taiwan.
*this means 2 wraps of strap fit through the attachment tab.
Availability:
Ships within 1-3 business days
We accept the following forms of payment: